Thursday Night Race Results
Thursday Night Races have started with a 20 week series. There are four 5 minute heats for each racer. Points are assigned for places in finish. Cars are Flexi type chassis, sealed S16D motor, GTP bodies. The track is the world famous Nuvolari at Elmsford Raceway. Go To Home Page
---
Elmsford got their website back under control (I helped) and they posted the Series results from Thursday night.
---
Apologies, I have other commitments so I can't be at the track every Thursday. I'm thinking of changing to just photos and highlights. Leave me feedback what you think. If I get enough requests (even 1 or 2) I'll work harder to get weekly results.
---

January 22, 2009
it is hard to read yesterdays results, i'll take a closer look at the clipboard tomorrow.
---

January 15, 2009 SHOUT OUT TO SHAWN!
1st: Mike Jr. (40 - perfect!)
2nd: Alfred W (30)
3rd: Andy A (27)
4th: Mike Sr. (22)
5th: Ron L (21)
6th: Shawn G (20)
7th: Andy C (18)
8th: Adam B (15)
9th: Matt (15)
10th: Robert (11)
11th: James (8) (concours)
12th: Ralph (7)
---
January 8, 2009 first race of 20 week series
1st: Mike DeParma, Jr. (38)
2nd: Andy Arkin (28)
3rd: Joe Barbaritte (25)
4th: Mike DeParma, Sr. (24)
5th: Shawn Gallagher (24)
6th: Andy Carter (23)
7th: John Marconi (22)
8th: Alfred Woltersdorf (21)
9th: Adam Barusek (17)
10th: Ralph Raiaino (16)
11th: Ron Leggiadro (13)
12th: Robert Moskovitz (10)
13th: Matt (8)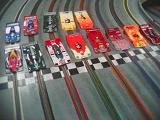 ---
This page was last updated 07/05/10
Home | Friday Night Race Results | Thursday Night Race Results | Saturday Night Drag Race Results | Special Race Results | Quality Motor Repairs | Custom Made Cars | ADVERTISEMENT PAGE | Favorite Slot Car Links | Slot Car Photo Gallery | Feedback | Interests