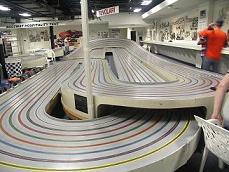 Friday Night Races are for novice and amateur racers under 14 years old (S16D), or expert racers up to 18 (group cars). There are four 3 minute heats for each racer. Points are assigned for places in finish. S16D Cars are Flexi type chassis, Parma S16D (#502) motor, any body (most of us use wing bodies), see rules. The track is very difficult as all but one of the 6 turns are completely flat - the other is a 60° bank. It is not the fastest car, but the best driver that wins. Go To Home Page
---
Friday Night Racing: new series started July 23rd (maybe), see below for results. Sealed motor Rules.
---
The Spring, 2010 Awards Night has not yet happened yet, but the results are at the top of the results page for spring series.
---
Thanks to our fantastic race director -->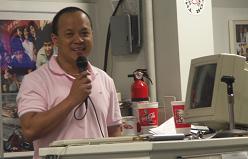 Points are shown in ().
---

July 23, 2010
Sealed S16D:
1st:Lucas (38)
2nd: Isaac and Sean (27)
3rd: Drew (23)
4th: James (16)
5th: Hudson (13)
---
---
---
This page was last updated 07/25/10
Home | Friday Night Race Results | Thursday Night Race Results | Saturday Night Drag Race Results | Special Race Results | Quality Motor Repairs | Custom Made Cars | ADVERTISEMENT PAGE | Favorite Slot Car Links | Slot Car Photo Gallery | Feedback | Interests